King's Gate Christian School
King's Gate offers scholarships based on demonstrated financial need and awarded according to a family's present situation. A King's Gate student can only receive one scholarship. The information you provide in the scholarship application will be reviewed by the King's Gate Scholarship Committee and submitted to the King's Gate Board for approval. Students applying for scholarships must be legal residents of the United States, live in Oklahoma, and be accepted to King's Gate for the upcoming school year. Application and enrollment fees must be paid before a scholarship application is considered.
The Opportunity Scholarship Fund provides scholarships to Oklahoma K-12 students attending accredited private schools in our state. Funds are voluntarily provided to individual schools by private individuals and corporate donors.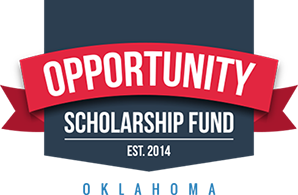 The Lindsey Nicole Henry (LNH) Scholarship provides funds for private school education for students meeting their guidelines:
A student who has an Individualized Service Plan developed by the Department of Human Services (DHS)
A student who is a child of a military family with permanent change of station orders who has moved to OK after receiving Individuals with Disabilities Education Act (IDEA) services in another state
A student who has been served through the Sooner Start program and during transition has been determined to be eligible for school district services
A student who has been in out-of-home placement through the Office of Juvenile Affairs
A student who has been in out-of-home placement with DHS, or who was adopted while in the permanent custody of DHS
Scholarship recipients must actively participate in King's Gate fundraising efforts:
Fall Gala – you must bring a minimum of 3 donated new items to be sold at our auction and acquire at least one t-shirt logo sponsor
Spring ROAR Week – you must send at least 12 sponsor letters for your student(s) and acquire at least one t-shirt sponsor.
This is the minimum we ask of every King's Gate family, regardless of scholarship status. Please strategically think of companies and individuals whom you could ask to support our fundraising efforts. It's often easier to find favorable sponsors with companies of whom you do business or those with whom you have a personal contact.
Families must be positive advocates of King's Gate in word and deed.
Note: Tuition assistance will be terminated after the Gala or Amazing gRace for failure to assist as described above. Families who fail to participate will not be considered for future assistance.
Tuition Assistance Schedule
April 19        Tuition assistance information due
April 20-29   Interviews completed
If tuition assistance is requested outside of this time frame, interviews will occur before the next scheduled Board meeting for an immediate vote. You will be notified in writing within a week of the Board's decision and will have two weeks to accept or deny tuition assistance.
The information you provide in this application will be reviewed by the King's Gate Board and will be kept confidential.
Pastor's Tuition Discount
The King's Gate Board approves a portion of our scholarship fund to bless pastors and church ministers with a reduction in tuition of up to $1,000 (application and enrollment fees still apply). Assigning these discounts is one of the great joys of our ministry. To serve as good stewards in assigning these discounts, the tuition discount applies to pastors and ministers based on financial need. To be eligible, the applying pastor must:
Sign the ACSI statement of faith 
Be designated as "clergy" by the IRS
Must be considered full-time
Must provide at least half of the household income from pastoral work
The King's Gate Board reserves the right to limit the number of discounts granted to any one church.
Pastors are also eligible to apply for general tuition aid, providing they meet the qualifications of acceptance.
To apply, pastors must submit a simple request form, signed by the governing board of their ministry verifying eligibility.
The Pastor Tuition Discount application is valid for one school year. Pastors must apply each year.
Email Office Manager Linda Ford at lford@kingsgateschool.com or call 45-283-0144 if you have any questions about the Pastor's Tuition Discount.